MANAGED SERVICES

PARADIGM
Save Time, Money, and Frustration By Avoiding Reseller Gimmicks.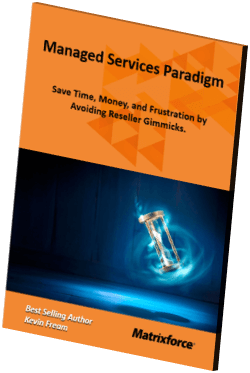 Most service providers simply resell technology products and subcontract services as "protection" with no legal or government authority.
Without a patented process or audited skills, everything is a random guess or trial and error while you get the privilege of buying the latest technology fad.
SPECIAL OFFER for businesses with at least 25 staff or $5M in annual revenues.
Read this guide and you'll discover:
"Big Lie" of managed services with realities and myths to avoid resellers
9 gimmicks to fool you into believing a service provider is competent
5 authorities to verify credibility before contacting a managed service provider
7 criteria of managed services to prevent revenue loss and reputation damage
Managed services pricing guidance for savvy business comparison
Quiz: Is your Managed Service Provider risking your livelihood and future?
Download this ebook now by completing the form on this page.